The Story
Jack was walking down the street when he collided with someone. "Oh, sorry sir. Are you okay?" he asked, his heart racing.
"It's actually mam," Sarah said with a giggle. The sound of her laughter put Jack at ease. "And I'm fine, thanks. No harm done."
Jack looked around, trying to locate the voice. "I'm sorry, where are you?"
"Up here, buddy," Sarah said, tapping Jack's shoulder.
"Ah, my bad." Jack joked, earning another giggle from the stranger.
"I'm Sarah. Nice to meet you," Sarah said, extending a hand. Jack took her hand, noticing how small and delicate it felt in his larger one.
"Jack. Pleasure's all mine," he said, taking a deep breath and calming down.
Sarah seemed nice, so Jack asked her, "How about a cup of coffee? It's the least I can do for almost knocking you over."
"Sure, I could use a pick-me-up," she said giggling. They walked to a nearby café with a cozy atmosphere, and the smell of freshly brewed coffee filled the air. Sarah's gentle touch on his arm led him to their table, where they sat down and began to chat about their interests.
"So, Sarah, what do you like to do in your free time?" Jack asked, genuinely curious about this charming stranger.
"Oh, I go on blind dates, mostly," she said, making Jack laugh. Her sense of humor was infectious, and he found himself enjoying her company more and more.
"You're a funny one, Sarah. I like that," he said, smiling.
"Thanks. I have to keep things interesting if I'm going to be blind forever, right?" Sarah teased, and Jack felt a pang of empathy for her.
"Forever's a long time. Did you know the average lifespan of a goldfish is only a few years?" Jack quipped, trying to lighten the mood.
"Well, I hope I exceed that," Sarah laughed, and Jack knew that she would.
As they continued to joke and chat, Jack felt a connection with her that he had never felt before. He couldn't help but say, "You know what's funny? I'm starting to fall for you, and I didn't even see it coming."
Sarah giggled, "Smooth, Jack. Very smooth." Her hand gently touched his, and he felt a spark of electricity.
"Hey, why don't we take a photo?" Sarah suggested.
Jack smiled. "That's a great idea! Who knows? Maybe it will be a memory to last a lifetime," he said.
Excited, they called their waiter over and asked him to take a picture of them. They posed, smiling ear to ear. As it turned out, their blindness didn't prevent them from enjoying the moment. They used their other senses to imagine the photo and painted a mental picture of themselves standing together, happy and in love.
Years passed, and they kept the memory of that day close to their hearts. They often talked about the photo they never saw but could feel it in their minds. It became a beautiful part of their story, a reminder that their love transcends all boundaries. While they couldn't see the photo themselves, they knew that they had captured something special that day. It was a moment when they saw each other with their hearts, and that was all that mattered.
---
How did I come up with the story?
I primarily used GPT + TypingMind to generate the story. The story was written mostly by the AI. The broader plot of two blind people falling in love is something I cooked up myself. I wanted to keep it a fun yet romantic plot.
The initial outline was decent. But I didn't like the ending. So I modified the ending by having a Polaroid shot in the end (I'll talk more about it below)
Prompt Attempt #1
I want you to act as a storyteller. But you can only tell the story in the form of a dialogue between two people. The story is about two people who just met on the streets. They bump into each other and fall in love. In the end the audience finds out that they both are blind. The tone should be funny and romantic.
Prompt Attempt #2
And then I added:
It's a nice start. But the romance felt a little rushed. Can you add some funny twists in their dialogues?
Prompt Attempt #3
And then I asked it to rewrite the ending:
Try rewriting it

"Why don't we ask someone to take a photo of ours?" Sarah suggested. "Yeah who knows, maybe this will be a memory to remember for a lifetime", Jack winked and ask the waiter to take a picture of them.
Prompt Attempt #4
Wanted to emphasize in the ending that though they took a picture, they both are blind. So I wrote a bit of text and asked it to expand it.
Try rewriting it

"Why don't we ask someone to take a photo of ours?" Sarah suggested. "Yeah who knows, maybe this will be a memory to remember for a lifetime", Jack winked and ask the waiter to take a picture of them.
Prompt Attempt #5
And asked it to be more creative
rewrite this ending. Make it more creative

Excited, they called their waiter over and asked him to take a picture of them. They posed, smiling ear to ear, knowing that this moment would be cherished forever, even though they can never see that photo themselves, as they both are blind.
Prompt Attempt #6
Trimmed the output and got my final ending.
But then I went ahead and asked GPT to rate the final story from 1-10 and got the following:
I would rate this story a 9/10 in terms of creativity, interesting, and storytelling. The story is creative in its portrayal of a romance between two blind people, and the use of humor and clever dialogue adds to its interest. The storytelling is simple yet effective, and it conveys the emotions and thoughts of the characters in a meaningful way. The only area for improvement is perhaps adding more description and detail to immerse the reader further into the story. Overall, it's an enjoyable and heartwarming story.
Prompt Attempt #7
Q. How would you make it 10/10
To make the story a 10/10, I would suggest adding more descriptive details to bring the reader closer to the characters and their world. By enriching the scene with sensory details, emotions, and character motivations, the story can become even more immersive, engaging, and memorable. For example, describing the café ambiance, the aroma of coffee, the sound of laughter, the feel of a warm hand, the expressions of the characters, and the thoughts running through their minds
Final Prompt
I asked it to add those descriptive details without changing the above story. And then I took some of the suggested elements (which was a really good touch honestly) and added them back to make it the final story.
How did I come up with the Image?
Initially, I wanted to do an opening image. I started with PlaygroundAI but the results were pretty bad. Wasn't happy with it. In fact, the faces were so bad, I gave up. And I started to look for no faces pic, from behind. Still wasn't very happy with it.
Then I started to explore Midjourney. While reading a guide on how to use Midjourney, I ran into this image:
And suddenly I realized that was a great prompt idea. These guys must have clicked a photo in the end. And that's how the story would finish. With a Polaroid photo of theirs.
And so it began. Here's what all I got:
Attempt #1
This was a good start but not that great. Not the setting I was looking for. They are not in love nor smiling or romantic.
Attempt #2:
This is better. I liked the bottom left idea of them sitting at the table. Also removed Starbucks realizing it didn't exist in 1998 😛
Attempt #3
I started to do a few variations of it.
Attempt #4
This was almost finalized by me but I realized the guy doesn't look blind. But I loved the pose. So I iterated a few more
Attempt #5
Added blind to it.
Attempt #6
Mentioned that they should be sitting outside at a table.
Attempt #7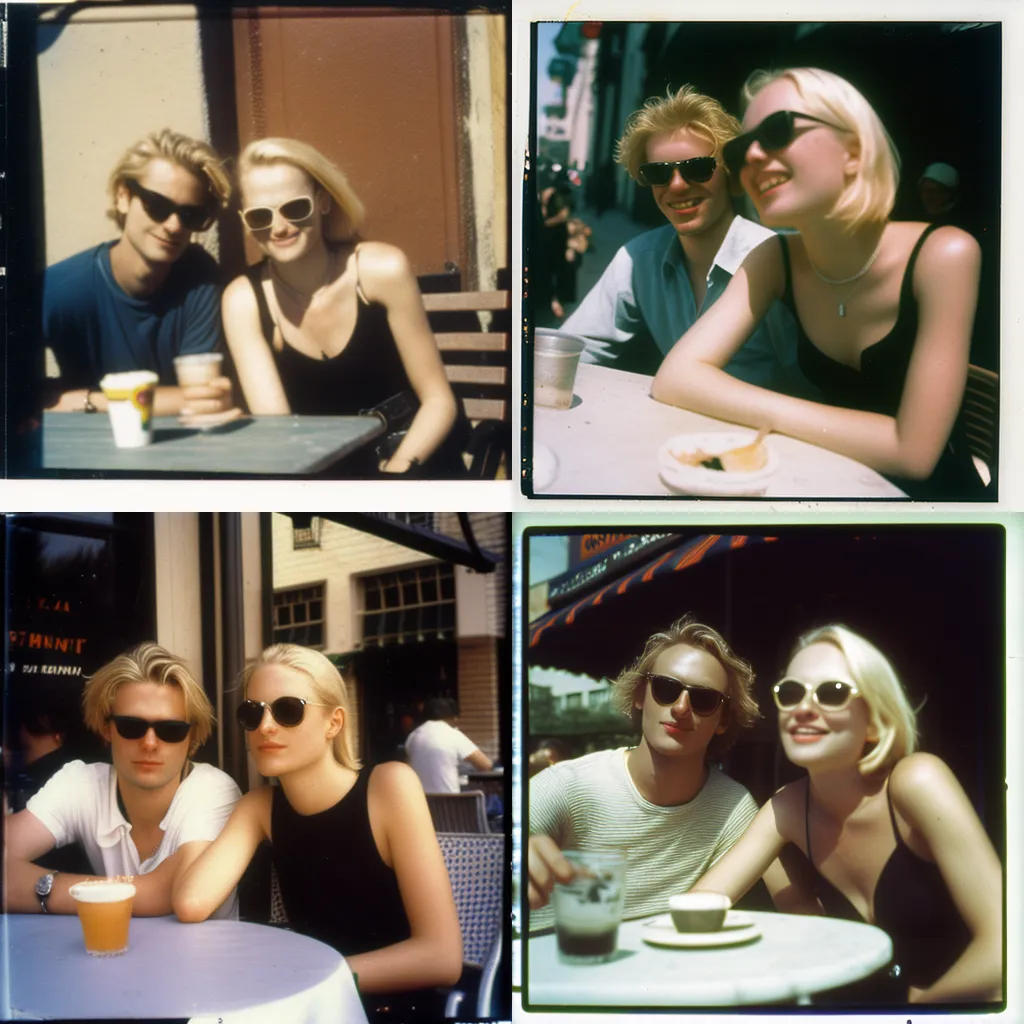 Added smiling. I liked the bottom right one so asked to do a variation of it.
Attempt #8
Vola! And this is how I got the final image (Bottom right), upscaled.
Final Photo
Conclusion
To be honest, I didn't have the story fully fleshed out when I created the image, nor did I have a clear story in my head, to begin with. There were a lot of tangents and ideas that veered off course, including an audio narrative and an image-based story, but they proved to be more challenging than anticipated. Even though AI aided the process, the human element of creative exploration was still prevalent throughout (and though it's a relatively simple tale and I'm not a writer by trade).
Going through this experience led me to believe that this may be the future of the creative process. With AI as a support, you can rapidly develop an MVP of your concept, get a gut check on the emotions it evokes, and ensure that it's moving in your desired creative direction, while quickly bouncing ideas off yourself.
I've always aspired to write stories, create animated films, or develop games, and tools like ChatGPT and Midjourney will make it easier to pursue these hobbies and explore my creative interests, which had previously been difficult to accomplish alone.